Rally Extreme II Obstacle Dual Slide Wet/Dry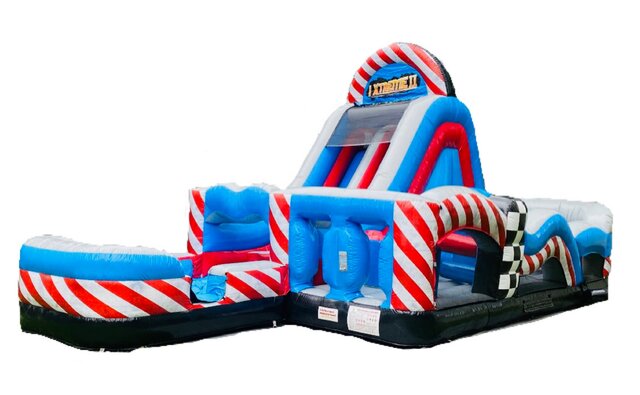 Setup Area: 40' L x 16' W x 17' H
Actual Size: 40' L x 16' W x 17' H
Description
Introducing the Rally Extreme II Obstacle Dual Slide, the ultimate water slide experience for thrill-seekers of all ages! This incredible inflatable water slide from FunJumps.com is designed to bring excitement and fun to your backyard or event.
Whether you're hosting a summer party, a corporate event, or just want to beat the heat, this water slide will be the highlight of the day. With its dual slide design, you can challenge your friends to a race down the slippery slopes, adding a competitive edge to the fun.
The Rally Extreme II Obstacle Dual Slide is built to ensure safety and durability. Made from high-quality materials, it can withstand hours of playtime and endless laughter. The slide features safety netting on the sides to prevent any accidental falls, providing peace of mind for parents and event organizers.
This water slide can be used both wet and dry, making it suitable for any weather condition. On hot summer days, simply attach a hose to the slide and let the water cascade down, creating a refreshing water park experience. If you prefer a dry slide, just detach the hose and enjoy the same exhilarating ride without the water.
Measuring XX feet in length, the Rally Extreme II Obstacle Dual Slide is perfect for both kids and adults. It's vibrant colors and eye-catching design will instantly attract attention and create a lively atmosphere at any gathering. Plus, its compact size allows for easy setup and transportation, making it a convenient choice for any occasion.
So, if you're searching for waterslides near you, look no further than FunJumps.com's Rally Extreme II Obstacle Dual Slide. Get ready to slide, splash, and have a blast with this thrilling inflatable water slide that will surely make a splash at your next event!