Inferno Mechanical Bull 2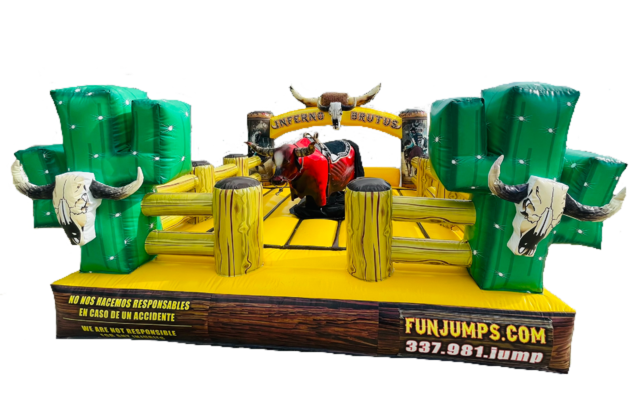 Description
Inferno Mechanical Bull Ride;
- Mechanical Bull with an inflatable mat
- Smoke feature
- LED lighting
Introducing the Inferno Mechanical Bull 2 - the ultimate fun-filled experience for both kids and adults! Designed with safety as our top priority, this mechanical bull is equipped with state-of-the-art padded features to ensure a secure and enjoyable ride for everyone.
With its adjustable speed settings, the Inferno Mechanical Bull 2 is perfect for kids of all ages. Parents can have peace of mind knowing that their little ones can safely hop on and enjoy a thrilling ride at a speed that is suitable for them. The slow and controlled movements of the bull make it an ideal choice for children, allowing them to build confidence and have a blast in a safe environment.
Our team has taken every precaution to ensure maximum safety. The padded surfaces of the bull provide a soft and cushioned landing, minimizing the risk of any injuries. The sturdy construction and reliable mechanics of the Inferno Mechanical Bull 2 guarantee a stable and secure ride, giving parents and riders alike peace of mind.
Not only is the Inferno Mechanical Bull 2 safe, but it also promises endless entertainment. Whether it's a birthday party, a family gathering, or a community event, this mechanical bull will be the highlight of the occasion. Its vibrant and eye-catching design adds a touch of excitement to any setting, creating a fun-filled atmosphere that will keep everyone entertained for hours on end.
So, why wait? Bring the thrill of the rodeo to your next event with the Inferno Mechanical Bull 2. With its safety features, adjustable speed settings, and guaranteed fun, it's the perfect choice for kids and adults alike. Get ready to saddle up and hold on tight for an unforgettable experience!