Carnival Ring Toss: Games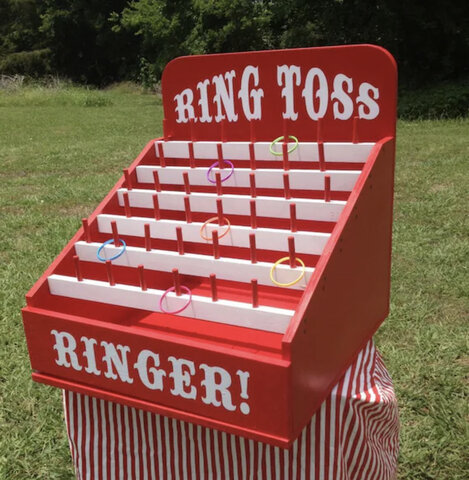 Description
Introducing the Carnival Ring Toss: the ultimate game of skill and fun for all ages!
Bring the excitement of the carnival to your next event or party with this classic ring toss game. Perfect for backyard gatherings, school carnivals, or even corporate team-building activities, the Carnival Ring Toss is sure to be a hit with everyone.
Crafted with durable materials, this game is built to withstand hours of play. The set includes a sturdy wooden base with pegs of varying heights, each one carefully designed to challenge players of different skill levels. The vibrant colors and eye-catching design will instantly draw attention and create a festive atmosphere.
To play, simply toss the rings and aim to land them on the pegs. Each successful toss earns points, and the player with the highest score wins! Whether you're aiming for a friendly competition or just looking to have some casual fun, the Carnival Ring Toss is guaranteed to provide endless entertainment.
Not only is this game entertaining, but it also helps to develop hand-eye coordination, focus, and strategic thinking. It's a fantastic way to engage both children and adults, making it a versatile addition to any event.
Compact and portable, the Carnival Ring Toss can be easily set up and taken down, making it ideal for both indoor and outdoor use. It's also lightweight, allowing for effortless transportation and storage.
Comes with a bag of rings. This price listed is for 6 hours, however, if additional time is needed we do offer overnight rental for an extra 25%.